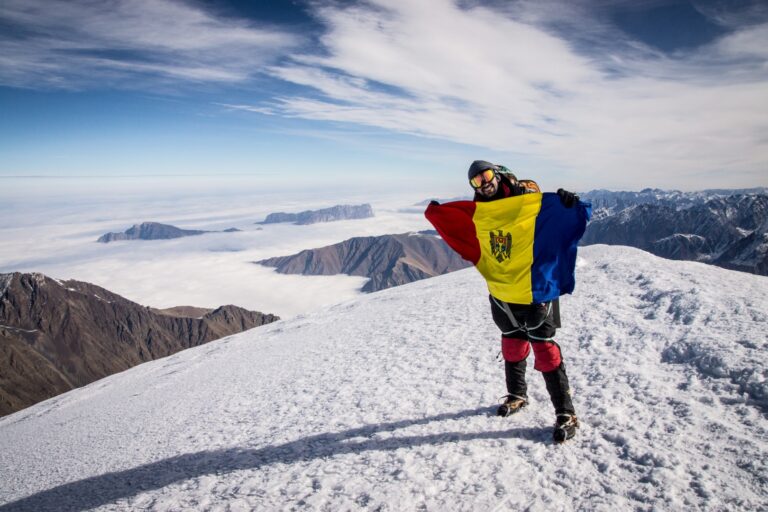 How I climbed my first mountain

Dear Adventure Diplomacy team, together with you I have spent a hell of a week in Georgia. After my treatment against multi drug resistant Tuberculosis this is probably the toughest challenge I was put up against and I thank you for that!
Chapter 1. The simple things
I thank you, because on journeys like this (1) you learn to appreciate at a whole new level the world around you, the people that surround you and the simple things. The comfort and the wonders of the civilized world we live in, when you flip a switch and there is light, you turn the socket and there is hot water. For the most part, there is a doctor we can go to and get treated in case of almost any health problem. You pick up your phone and you can call your loved ones or get in the car and go visit them. These are all wonderful, but unless they are taken from us, we forget to appreciate them. But also (2) you learn that we are stronger than we think, as individuals, as humans, as nations but most of all as a global community. A global community of peace and collaboration.  
Not everybody can be a climber, but I am certain everybody can try! Looking at movies and documentaries of climbers around the world I always imagined you need some sort of superpowers to do that. Looks like all you need is the courage to try it. Ok, the courage and preferably a not so short list of equipment.
Our goal was tough and climbing up, the headaches, the nausea, the fatigue and just the long hours of walking in the cold…honestly made me think about returning back to warm and comfort many times. It is painful to climb a mountain. But this journey wasn't just about me. It was about the ones in front of you and the ones in the back, the support team and most of all the idea that our photo with the flags on top of the mountain will become a message of peace and help stop the ongoing conflicts in our homelands and we'll have a chance to make people wonder: is any territory or belief worth the tears of our mothers and the lives of their sons – our brothers, our dads and most all the lives of our children?! Is it really?!
Chapter 2. One spork, twelve people.
We started this expedition as individuals but we summited as a team. Here in Moldavia, where I live, on both sides of the Nistru river, we have quite diverse people. Since childhood most of us already speak 2-3 languages, Russian, Romanian, Gagauz, now more often English and a few other languages. The diversity however is not an obstacle, it is an opportunity. Just like in our expedition, I wish for my country, that we all become a team. Russian speaking, Romanian speaking, Gagauz speaking, or English speaking… because if we do, we sure can climb the steepest 'mountains'…
We did not bring a lot of cutlery with us on the mountain. Frankly, I forgot to take any. But because at least one of us took a spork we could all eat that chicken soup and THAT is what a team is for. As well, we did not bring many pots either.. so we used the same one for all courses and our ginger tea tasted like chicken soup sometimes, but that is part of the charm and made a good story to share.
Chapter 3. Basic instincts.
To the expedition I came prepared and I was sure I can physically face the challenge. The first day we went for a test hike up to 2.400 m and I did great, I was even encouraging others. Ana was not too far from me so I was sharing the excitement and the enthusiasm with her and I would like to think that keeping her talking she had less time to think about how tiring the long hike is. I am quite sure I was also showing off by jumping around on rocks and wasting energy while this was a quite strenuous hike. The second day we had to reach to base camp at 3.600 m. We started very early and I only had 2 hours of sleep. After some 5-6 hours of hiking up, a few kilometers before the hut I really started to feel the effects of the altitude on me. Even after Luci, our Duracell and forever calm organizer, took my backpack, it was so hard to walk with the nausea and fatigue and the constant yawning because of the lack of the oxygen and all I wanted to do is lay under a rock and sleep. But Ana was in front of me… and she did not lose any opportunity to encourage me, give me water, make me laugh and just keep me going. Our roles inverted. I did make it to the base camp, but thanks to her, to Luci, to the team.

I got better the day after, my heart rate was over a hundred beats per minute and I stopped yawning at every other step. Adi, our super informed and passionate organizer, gave me an aspirin and that helped too. Ultimately I felt quite good climbing to the plateau the fourth day at over 4.000 m. As we got back we had to decide who will be in the support team and who will go up, based on previous experience, fitness and our own will. I was to go up and although I had most of the necessary equipment, it wasn't quite fancy. So, this time Olesya who is also from Moldavia and was still dealing with the mountain sickness and would've been in the support team at the hut, asks me if my gloves are warm enough, she gave me hers and also some hand and feet warmers. It was her equipment, but this kind of care for another person, a stranger, for a greater purpose is one of the best things in humanity that I know of. In the end we were all sharing what we had extra and were wearing each other's jackets and sleeping in somebody else's sleeping bag… which not only was extremely efficient but it proved to be very heartwarming and uplifting to see all this generosity and appreciation all around. That is an environment I want to live in.
I wish I could take all my compatriots on an expedition to Kazbek.
Chapter 4. 5.033 m or the aftermath.
In the night before the summit, Tibi, our resourceful and very diplomatic organizer, gave us a full training on the use of the crampons, the ice ax and a shock course on how to act in case of emergency. It was very well received as it prepared us for the things that luckily did not happen. Every few kilometers you see a boulder with a commemorative plaque or cross on it. Not a very pleasant site, but being near people that know what they are doing, surely helps.
We started around 4 am, it was pitch black and cold. Some long dark hours with sounds of heavy breathing and the rock avalanches and we reached the plateau, from now on it was only snow and ice. I looked back, the sun was rising, it was mesmerizing. Some even longer hours on the ever white trail and we were closing with small steps to the last slope. I could barely make any more steps. It became less of a physical challenge and more of a psychological challenge. Deep breaths of cold air and very small steps. I could not stop thinking how much Olesya would've wanted to be there with us and that thought made me keep walking.

As we were getting closer, the enthusiasm in the others, the thought of summiting, was settling in and the adrenaline kicked. As I heard the first ones exclaiming as they reached the top I felt like running the last steps! All pain was gone, all tiredness was gone and all that was left were my eyes gazing into the endless landscape of mountain peaks, scattered with snow and ice and embraced in clouds. If nobody would've spoke to me, I would've thought I was dreaming. That view will remain tattooed in my memory for a long time. We only spent 5 or 10 minutes on the summit, but the satisfaction got is forever.

We took the photo with all our countries' flags, it was amazing and before leaving I took a deep breath… and it felt absolutely awesome to breathe at over 5.000 m with the same lungs I have went through all the 2 years of Tuberculosis treatment. You always think that the disease might come back, but in moments like this, you realize just how strong we are, as a global community, as nations, as humans, as individuals. You realize that no mountain is too high and no dream is to big. I dream of a world where no territory or belief is worth more than a human life. This dream is the mountain I invite you all to climb.
Valeriu is a visionary, photographer, wine enthusiast and CEO of the first professional wine blog in Moldova. Valeriu is also involved in volunteer work with Rotaract Moldavia and several health foundations. He is looking forward to be a piece of the solution in an international network of understanding and collaboration. No mountain is too high and no dream too big!
Valeriu Istrate (26) was one if the participants in the Black Sea Network Project. Valeriu is a visionary, photographer, wine enthusiast and CEO of the first professional wine blog in Moldova. Valeriu is also involved in volunteer work with Rotaract Moldavia and several health foundations. He is looking forward to be a piece of the solution in an international network of understanding and collaboration. No mountain is too high and no dream too big!