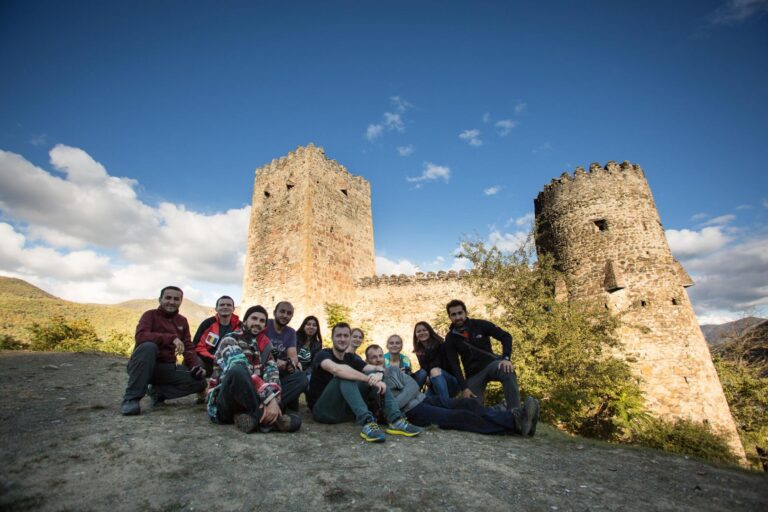 We are all embarked in a mini bus travelling to Kazbegi for our first camp. We have traveled up to 2.300 meters on a not so friendly road, with lots of tunnels and avalanches. We were lucky, but not all drivers had the same faith. We saw a capsized truck on the road, grapes boxes near it and everything. He must have fallen asleep behind the wheel and all we can do is hope the driver was not hurt. Not an easy drive at all, taking into consideration the weather was not too friendly either. We are looking forward to more sun for tomorrow.
We became friends with our Georgian driver, a man between two ages, pretty talkative and a real music fan. He is upset with the current political situation, Russians entering Georgia without visas, but Georgians needing visas to get out of the country. He looks up to the situation in Romania, a true EU state as he considers it.
We think we're going to start learning the local language with all the music on the radio. All the songs are about love, translates our driver. A man without love is very poor, he says.  An oldie, but goldie comes up: The eye of the tiger. Valeriu thinks this is a song for us, at the Black Sea Network Project. The driver says it's surely for him too and his very young soul.
We'll soon get to our first stop: the guesthouse. We're trying to get accustomed to the weather, it's all rainy and damp. We're cold and a bit tired, but the view is getting better and better. We'll spend the night here, at 1.800 meters, and we'll prepare for the start of our adventure, tomorrow morning!